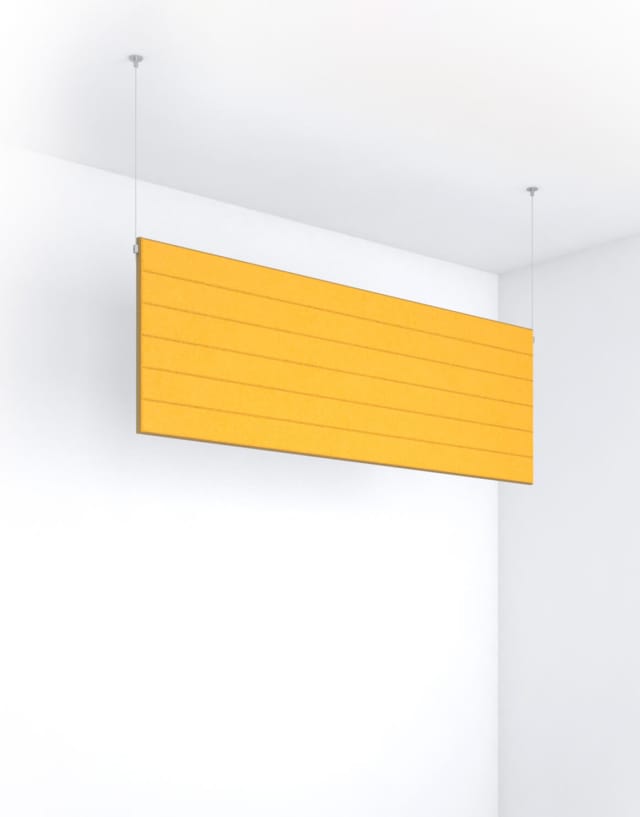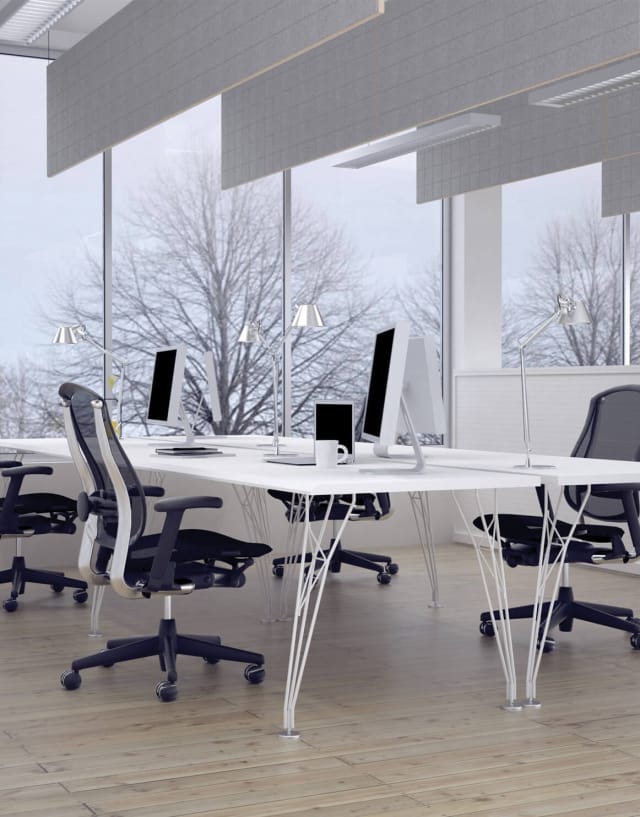 400.46
Divy

Baffle

Fill flat, empty, overhead spaces by putting up this Sola Felt panel that's attached to a birch frame, and suspended on cables. Easy-to-install, NRC rated, and Class A fire rated.
Create your Signature
Divy Baffle
What you get

One 24.375"H x 72.375"W (619mm x 1838mm) Divy Baffle with a Birch frame and Sola Felt panel.

Material Choices

Sola Felt

Design Choice

— Sola Felt color and pattern
— Stainless or Black Oxide hardware finish

Product Features

— NRC rating of .75 (Alpha W .70H)
— Carries a Class A fire rating (US only)
— Sola Felt attached to Birch Frame, suspended on cables
— One 24.375"H x 72.375"W (619mm x 1838mm) Divy Baffle is the smallest unit. For Wider applications, additional panels will be added
— Easy to install
— Available in 15 standard Sola Felt Colors

Lead Time

Two weeks (not including transit time)
A subtle grid-like Sola Felt pattern, birch frame, and sleek hardware are ready for your own design contribution. Choose from 15 colors.
Geometric Design


with six pattern options
Choose from six patterns to customize your Divy baffle.
Plane

Margin

Vim

Accord

Net

Quint
Sola Felt


Create Comfort

Sola Felt is ¼" thick with a Class A fire rating and is available in 15 colors.

Sola Felt
Hardware
The Finer Touches
Details that Matter
The Divy system comes with custom engineered hardware for both single and multi-panel installations. Available in Stainless Steel or Black Oxide finishes. 
Product details
Features and Hardware
Dimensions

24.375" x 72.375" (691mm x 1838 mm)

Custom Engineered Hardware

For both single and multi-panel ins

Ceiling Cover Plate

For clean installation
Turn Down Sound
Explore Divy Products
Customize this collection of partitions and baffles with your choice of color and pattern.
Learn more
Other Products you might like