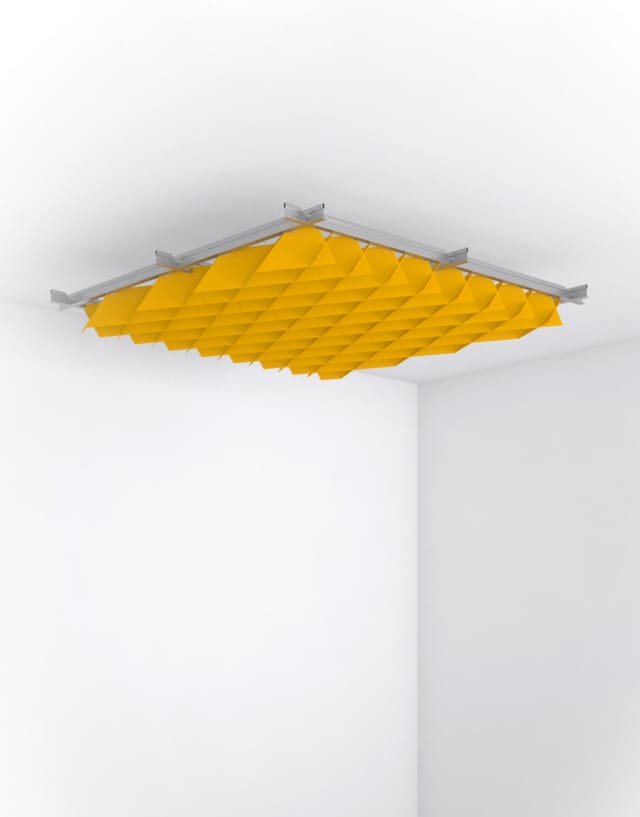 400.44
Clario

Ceiling Baffle

Visually stunning, highly functional Sola Felt ceiling baffle. This product is NRC rated, easy to install, and comes in two sizes you can use to fill almost any size of ceiling.
Create your Signature
Clario Ceiling Baffle
What you get

4 baffle minimum for the 24" (609 mm) x 24" (609 mm) option or a 2 baffle minimum for the 24" (609 mm) x 48" (1219 mm) option.

Material Choices

Sola Felt

Design Choice

— Baffle size
— Sola Felt color


Product Features

— Clario has an NRC rating of .70 (Alpha W 0.65 MH)
— Made of 3/16" (4.5 mm) Sola Felt offered in 15 colors
— Easy to install with flat tiles are available for obstructions, cutouts or irregular sizes
— Design online using the Clario configuration tool
— Approximate per square foot pricing $15.00

Lead Time

Two-weeks (not including transit time)
Use this product's 15 color Sola Felt palette to create a sound absorbing ceiling that will have the room looking up.
Choose Color


Create Comfort

Made using our PET technology and 50% post-consumer recycled material, Sola Felt has a Class A fire rating and is available in 15 colors.

Sola Felt
Design Tools
Look Up
Start Customizing
Ready to create your own Clario ceiling feature? Our online design tool allows you to choose your size, color, and layout, view your design in 3D, and quickly obtain pricing.
Clario Design Tool
Product details
Features and Hardware
Easy to Install

Works with standard grid systems

Small Size

24" (609 mm) x 24" (609 mm)

Large Size

24" (609 mm) x 48" (1219 mm)

Easy Shipping

Baffles fold flat for easy shipping
Other Products you might like